How to get to Ischia and Procida from Rome, Naples, and Pozzuoli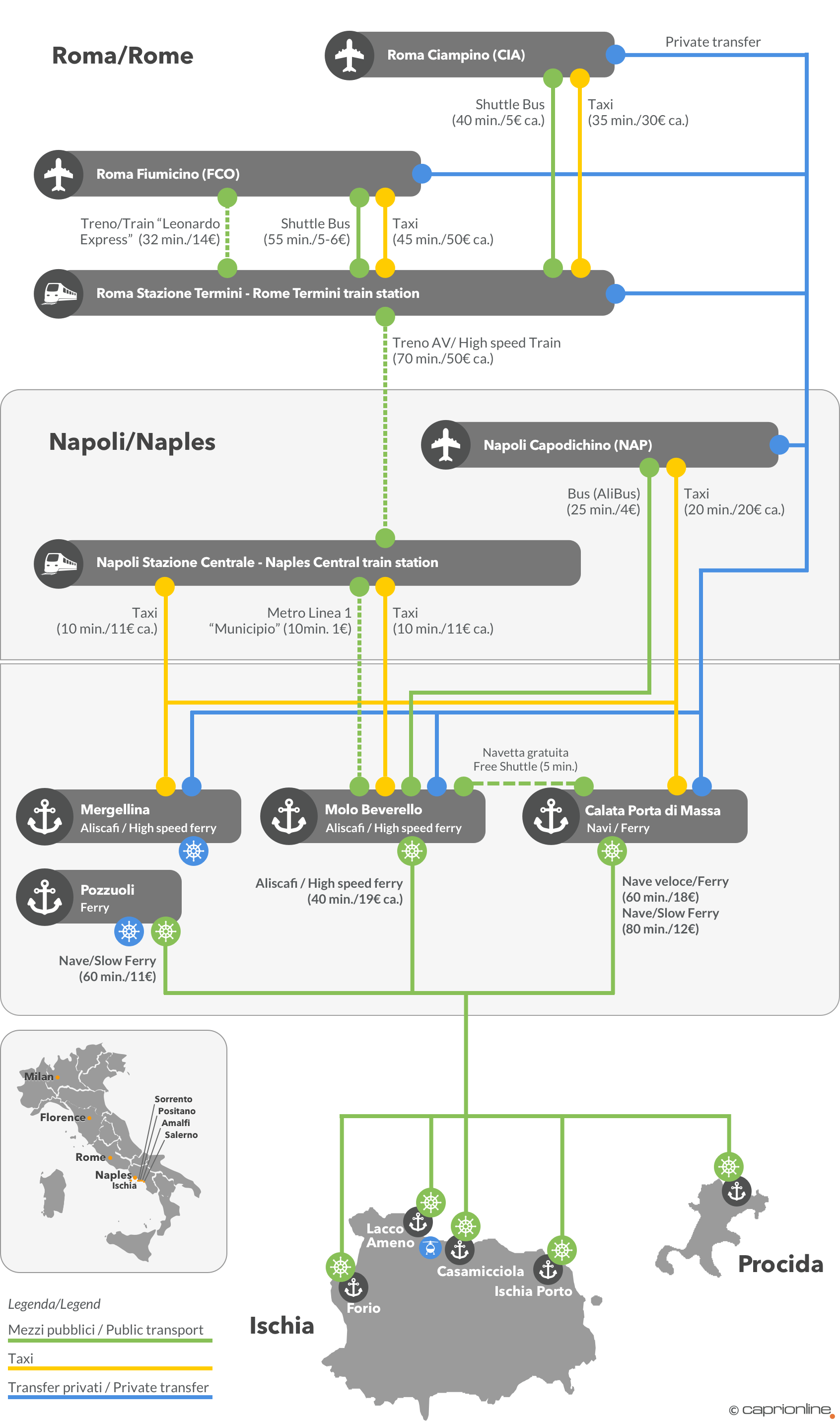 Departure ports for routes to Ischia and Procida
All year long, there are routes departing from:
Naples: Calata di Massa (vehicles and passengers), Beverello (passengers only), Mergellina (passengers only)
Pozzuoli (vehicles and passengers)
During the summer season, there are also routes for Ischia departing from:
Sorrento (passengers only)
Capri (passengers only)
There are three ports on Ischia:
Port of Ischia (almost all routes stop here)
Casamicciola (only some routes stop here)
Forio (only some routes stop here)
Almost all routes stop at Procida before arriving at Ischia.
Helpful information for ferries to Ischia and Procida
Purchasing tickets
Generally, you can purchase tickets directly at the port a few minutes before departure, but we recommend getting there early during the weekends, during the months of July and August, and if you are embarking with your vehicle.
Reservations
On Sundays and holidays and during high season (July and August), it may be hard to find seats on the ferry. During these periods, we recommend booking seats online directly through the ferry companies, especially for those embarking with their vehicles.
Restrictions
From Easter to the beginning of September, residents of Campania may not embark with cars and motorcycles.
Suspensions
In case of very rough seas, the high speed ferry routes are suspended and travelers must reach Ischia and Procida with ferries or slow ferries. Ferry and slow ferry routes are suspended only in case of extremely rough seas and generally only during the winter.
Average duration of trip:

By high speed ferry: 45 minutes
By ferry: 1 hour and 15 minutes
Which is the most convenient port for traveling to Ischia and Procida?
If arriving in Naples by airplane or train, the most convenient departure ports are Molo Beverello or Calata di Massa.
From the central station
The Molo Beverello and Calata di Massa piers are easily reached from the central train station by taxi, requesting the fixed fare (around €10). Otherwise, the subway Line 1 from the Piazza Municipio (opening soon) stop. There is a free shuttle bus between the two piers.
From the airport
From the Naples Capodichino terminal, take the Alibus,a bus route which stops direcly opposite the Molo Beverello pier in about 30 minutes. You can purchase tickets directly on board for €4. Otherwise, by taxi there is a fixed fare of about €20.
By car
If traveling by car from the north, the Pozzuoli port is very convenient and allows you to avoid the chaotic Neapolitan traffic.
Links to sites listing the official schedules and downloadable pdf